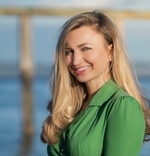 (843) 793-8028
(206) 842-3255 fax

amber@bainbridgehomes.com
166 Winslow Way E
Bainbridge Island WA, 98110
Receive Email Alerts from Me
Amber Hunt graduated from Charleston Southern and got her start in property management and new construction sales in Charleston, SC. Her passion for architecture, interior design, and the house hunting process started at a young age from moving around the country. Amber came to Seattle on vacation and fell in love with the Pacific Northwest and, more specifically, Bainbridge Island. The variety of scenic nature views, trails, art culture, community feel, and great schools were a huge draw for her life with a young child.
Being familiar with the moving process, Amber is passionate about helping ease any related stressors, and making the transition as exciting as possible. Whether you are looking to buy or sell your home, Amber strives to keep you informed and guide you through to your next season in life.
"Amber patiently worked through our requirements to truly understand what we were looking for. She continuously researched properties for us, and coupled with her expert local knowledge - she was able to make personalized suggestions that really resonated with us. For each viewing we attended, Amber educated us on the property features and background, and highlighted the pros/cons we should consider before making a decision to put an offer down. Amber provided a real personal service - getting to know our family needs, visiting City Hall to research land information on our behalf, and listening to our feedback along the way. We found the perfect home with Amber, and we couldn't be happier - Amber is fantastic, and we cannot recommend her highly enough!" ~ James C.
"Amber was very Professional and patient with us during the home search and viewing process. I had a specific property type in mind that was not typical for the developed area we wanted to live in. Amber worked diligently to search all available properties and ensured these matched our requirements and budget. The home we were able to purchase recently matched all our requirements thanks to Amber's hard work. Amber also worked very well with all other entities, such as the seller's agent, Homeowners, Title co, loan co, etc. to ensure a successful closing. I would recommend Amber to anyone looking for a RE agent to purchase or sell a home." ~ cjm0007