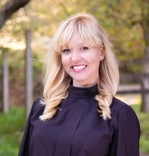 Sarah Williams has been a Real Estate Broker for over four (4) years. She came to Seattle to visit family and fell in love. The first thing that captivated Sarah was the gorgeous ferry ride from Seattle. She had flown up from California and didn't even need a car! Sarah had unwittingly booked a stay at an International level dressage barn. She was immediately hooked on the Bainbridge Island lifestyle.
"I am a people person. The longer I live in the pacific northwest, the more I love it. I want everyone around me to be just as thrilled to live in this beautiful area as I am." 
Sarah comes from an extensive client-based business background with an eye for detail and design. She was a stylist for celebrities in California and was a flight attendant for a small private airline. After moving to Washington in January 2018, she served her community by selling real estate with Bainbridge Homes. 
Sarah enjoys helping people find fulfillment. She thrives on helping her clients achieve their dreams. Whether you are buying or selling vacant land, your home, or relocating to Washington, Sarah will help you discover how incredible the Pacific Northwest truly is.